As per reports, the death toll from the coronavirus outbreak in China rose to 81 on Monday, forcing the Chinese government to extend the Lunar New Year holiday to curb the spread of the virus. Pinarayi Vijayan, in his letter sent to the PM, says: "It seems that the ground situation in Wuhan has further worsened and we have information from the relatives of students from Kerala studying at various Universities in Wuhan, that the situation there is grave. It is also reported that the Yichang area has also been affected."

China has shut down transportation in nearly 13 cities, which include Wuhan in central China's Hubei province to contain the spread of the virus, say reports. Vijayan has requested that the Indian government should consider operating a special flight to Wuhan or a nearby functional airport and airlift the Indian nationals stranded there and bring them back to India.

The Indian embassy in Beijing has opened three hotlines to help Indians in China. Ravish Kumar, spokesperson at the Ministry of External Affairs in a series of tweets has informed that the Indian Embassy is in close touch with Indian citizens including students to extend assistance, including on possible travel options out of Hubei Province.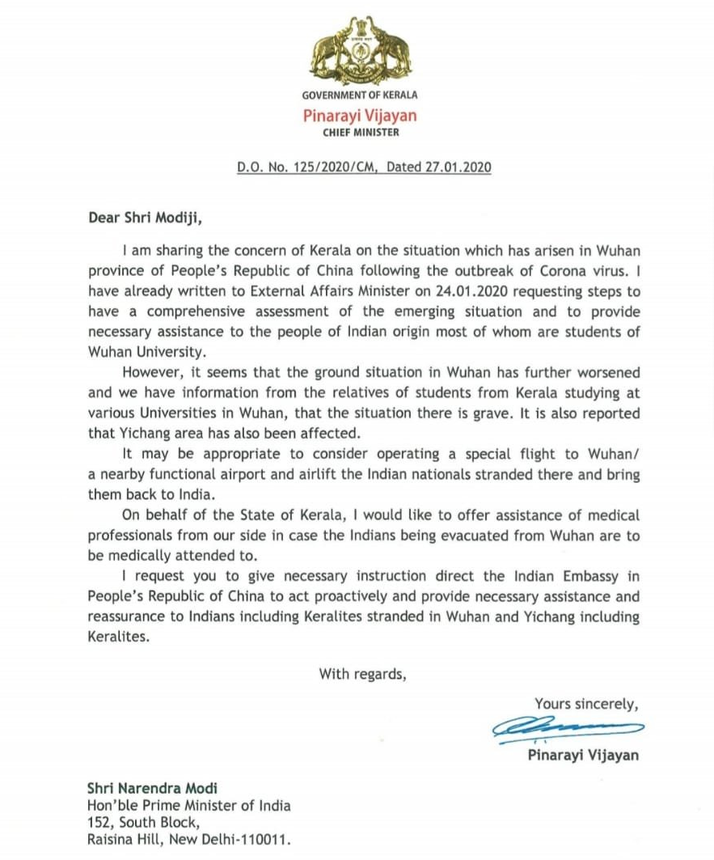 China has announced to offer evacuation of Americans stranded in Wuhan raising hopes for Indians as well. Vijayan writes: "I request you to give necessary instruction direct the Indian Embassy in the People's Republic of China to act proactively and provide necessary assistance and reassurance to Indians including Keralites stranded in Wuhan and Yichang including Keralites."